Light flux speading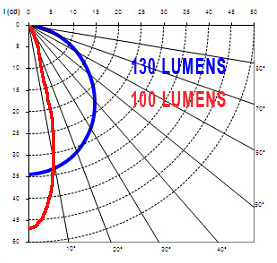 Like old technology bulb, the led bulb offer different light beam angle. The original beam for the new cms Led is 120°, narrowing is obtain by an optical lense placed on led top, but reducing efficiency.

For the same bulb lighting power you can have a narrow 15° to 30 ° beam, with very intense light in the middle which is perfect for long distance lighting . In our waterpoof deck ligthing fixtures you have the choice between a Eurobeam lense ( standard ) giving a beam similar to a car beam , or a long range beam more narrow ( optional ) For interior lighting the wide beam is highly preferable even if some manufacturers try to hide low performances by lense addition to give high lux value in the very beam center. A high power led with 120° wide beam light distribution reduce dead zone on the floor.
You can see on the photometric diagram beside the blue belly curve of our 130 lumen bulb ( with more than 50% light up to 50° half beam angle ), compared to an apparently more powerfull 100 lumen led with concentrating lense with a very narrow beam ( the red flamme shape curve )
For navigation light the 120° beam cms led improve widely visiblility when boat is inclined under sail, far over Colreg specification originaly designed for engine boat.